Many years ago I had read
Back When We Were Grownups
by Anne Tyler. I really loved that book, but I had never read anything else by her. Sadly I actually didn't realize she had written so many books!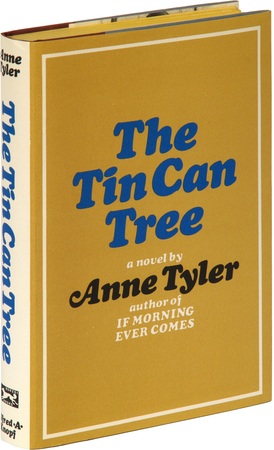 The Tin Can Tree is Tyler's second book, written in 1965. It's a little hard to relate to in today's time, but it's a story of family life after the tragic loss of a child. This was a very nice story, although it didn't captivate me as I had hoped.
When I was a teenager I loved reading scary, mystery, horror type novels. However, as an adult I haven't read many from that genre. Maybe it's because I don't have the active imagination I once I had or maybe it was all those years living alone I didn't want to scare myself silly!
As I wandered around the Windham Public Library though I found myself standing in front of Dean Koontz's many, many books. I remember reading a few years ago so I decided to give him a try again.
I was pleasantly surprised by Odd Thomas. This book is about a young man named 'Odd' that has a special gift of seeing dead people...but not in a 'Sixth Sense' type of way. This was the strange story that I had been hoping for and I found myself really enjoying this book. In fact, there are other Odd Thomas books and I plan on reading those as well.